Tags
elephant prints, felt ball, foot rest, home decor, ikkat, interior design, multi-color, ottoman, storage space, tire, wicker
This post was meant to be about good foot rests. But my computer was suddenly invaded by photographs of ottomans (or should I call them ottomen?!) And it had me wondering why everyone doesn't just use the multipurpose ottoman as a foot rest. Put them in front of the couch, and they're heavenly to prop your legs up on, after a hard day at work. Kick them next to the wall, and there's extra seating for the party you plan to host. Perfect, right?
If you like to rest your legs up high, then be sure to get an ottoman that's about the same height as your couch.
I don't know if it's just me and my multi-color mania, or if they all just happen to be multi-color. But I can't imagine anyone saying no to having this felt-ball ottoman around their living room. Ain't she a beauty!
Being a big fan of up-cycling, this is easily one of the best examples I have seen of the concept. I've covered beer bottles with rope and turned them into aesthetic vases, but turning a tire into an ottoman is another league altogether. Who would have thought, right? I really wish (or hope) that there are official awards to recognize and appreciate home-style ingenuity like this.
If you liked the last one, but you're not the DIY type, then you might be able to pick one of these up for a price. I find the shape rather intriguing, and there's probably a good amount of storage space in there too.
You'll find tons of ottomans with removable lids, capturing every bit of storage space beneath. The ikkat ottoman below doesn't maximize storage space that way, but there's still an eclectic charm of discovering a drawer where you least expect to find one.
Now, these are just plain exotic! The cushion fabric looks like it was born to compliment the color of the wood and wicker. And they're shaped so beautifully.
There's a child in everyone of us, they say. And I'm unraveling mine right here! No, I wouldn't tuck this into some part of the kids' room. I would flaunt it quite shamelessly, actually! Just look at those elephant prints! It makes me wish I could have a pet elephant around!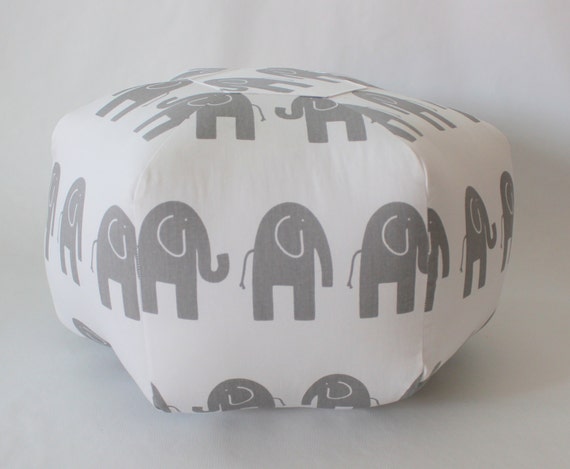 The ottoman traveled half way across the world to afford us a few comforts. Their origin dates back to 16th century Turkey which was ruled by the powerful Ottoman Empire. The upholstery style and decor of that time and place found their way to European homes, and possibly to yours very soon!